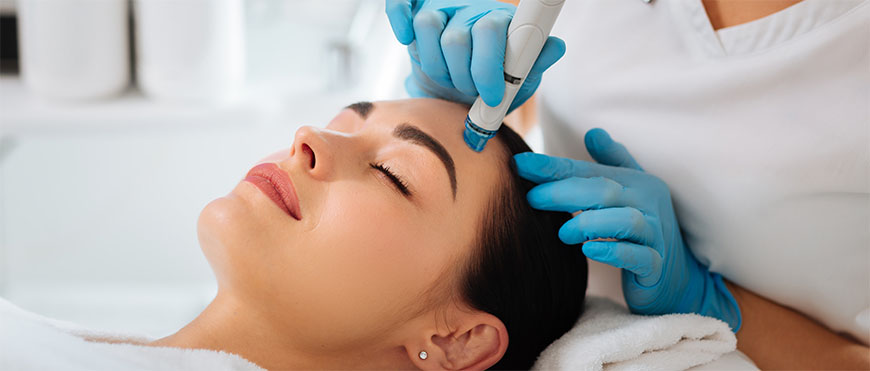 What is Hydrafacial?
Hydrafacial is one of the most powerful and non-invasive skin resurfacing treatments available to consumers today. Hydrafacial's patented Vortex-Fusion technology targets the appearance of fine lines and wrinkles, elasticity, firmness, skin texture, age/sun spots, enlarged pores, congested skin, as well as evening tone and vibrancy. The best part about HydraFacial is that it is for everyone. There is a treatment geared towards every client.
Hydrafacial FAQ
How many treatments are needed to see results?
Many clients report seeing immediate results in the form of an even, radiant skin tone after just one treatment! One treatment per month is recommended to achieve your specific goals.
Am I a candidate?
YES! Hydrafacial is designed to accommodate all skin types (with some exceptions which your esthetician will go over with you if any exceptions are present)
Why is Hydrafacial so good for your skin?
The foundation of healthy skin is hydration. Hydration provides radiant and healthy skin.
Hydrafacial
Hydrafacial Basic works in just 3 steps and is for the client on a time crunch! Starting with a cleanse and peel, uncover a new layer of skin with gentle exfoliation. This is followed by extraction and hydration; remove debris from pores with a painless suction and nourish the skin with skin quenching moisture. Next, we glow! With antioxidant infusion, and hydrating peptides to maximize your new radiance. Best thing about this treatment? This procedure Instant results. Your skin will be prepped and ready for corrective treatments within the Deluxe and Platinum Hydrafacial treatments.
This treatment is for the client that is ready to move from preventative to corrective. Hydrafacial deluxe is 45 minutes and incorporates personalized treatment options/boosters to target specific concerns. This is partnered with either blue or red LED therapy.
Hydrafacial Platinum
$365
The full detox! One full hour to achieve total transformation. The platinum experience takes it one step further in the treatment process by combining detoxifying lymphatic drainage with customized boosters for targeted skin concerns and blue or red LED. Platinum treatment always includes a SkinCeuticals finishing mask to enhance results.
Hydrafacial Keravive
$500
Designed to deeply cleanse, nourish, and hydrate your scalp for healthier and fuller looking hair. While similar to the Hydrafacial third step, includes a take home spray to maintain results in between visits. Consider this a 30 day treatment as opposed to a 30 minute treatment! For maximum results, an ideal treatment plan suggests 3 visits to your provider.
Hydrafacial Perk Lip Treatment
$50
A Perk lip treatment uses patented technology to deliver nutrients and provide an added boost of shine. Peony root and corum peptides restore the lips natural rosy color. A gentle exfoliating tip removes dead skin buildup and in turn are deeply moisturized with Peppermint Oil and Aloe Leaf Extract. Hydrating lip balm 30 SPF is included as a take home perk to help maintain beautiful results.
Hydrafacial Perk Eye Treatment
$50
A Perk Eye treatment that uses patented technology to perform inside and around the orbital bone to help deliver nutrients that help reduce fine lines, dark circles, and puffiness. Green Tea extract protects against environmental stressors while a blend of Earth Mineral Peptides reduces the appearance of fine lines. Arnica Flower, Horse Chestnut Seed, and Oat Kernel Extract help to soothe puffy eyes, brighten and deeply moisturize. Serum is included as an at home treatment to maintain results.
Hydrafacial Back Treatment
$295
This back facial cleanses, exfoliates, extracts, and utilizes antioxidants.
Hydrafacial Neck and Hands
$100
This can be added to any Hydrafacial treatment to provide the same deep cleansing.
Hydrafacial plus derma planing for ultimate hydration. This exfoliating and hydrating facial is the perfect for event prep. We highly recommend this treatment to our brides!
**All Hydrafacials can be bought in packages of 3 or 6**
Purchase 3, receive a complimentary Skinceuticals skin regimen kit ($173 value!)
Purchase 6, and receive your 7th treatment complimentary